BOOK DESCRIPTION:
A soccer story—for boys and girls alike—just in time for the World Cup!

"Vini! Come! The field calls!" cries a girl as she and her younger brother rouse their community—family, friends, and the local fruit vendor—for a pickup soccer (futbol) game. Boys and girls, young and old, players and spectators come running—bearing balls, shoes, goals, and a love of the sport.

"Friends versus friends" teams are formed, the field is cleared of cows, and the game begins! But will a tropical rainstorm threaten their plans?
Soccer fan or not, the call of The Field is irresistible.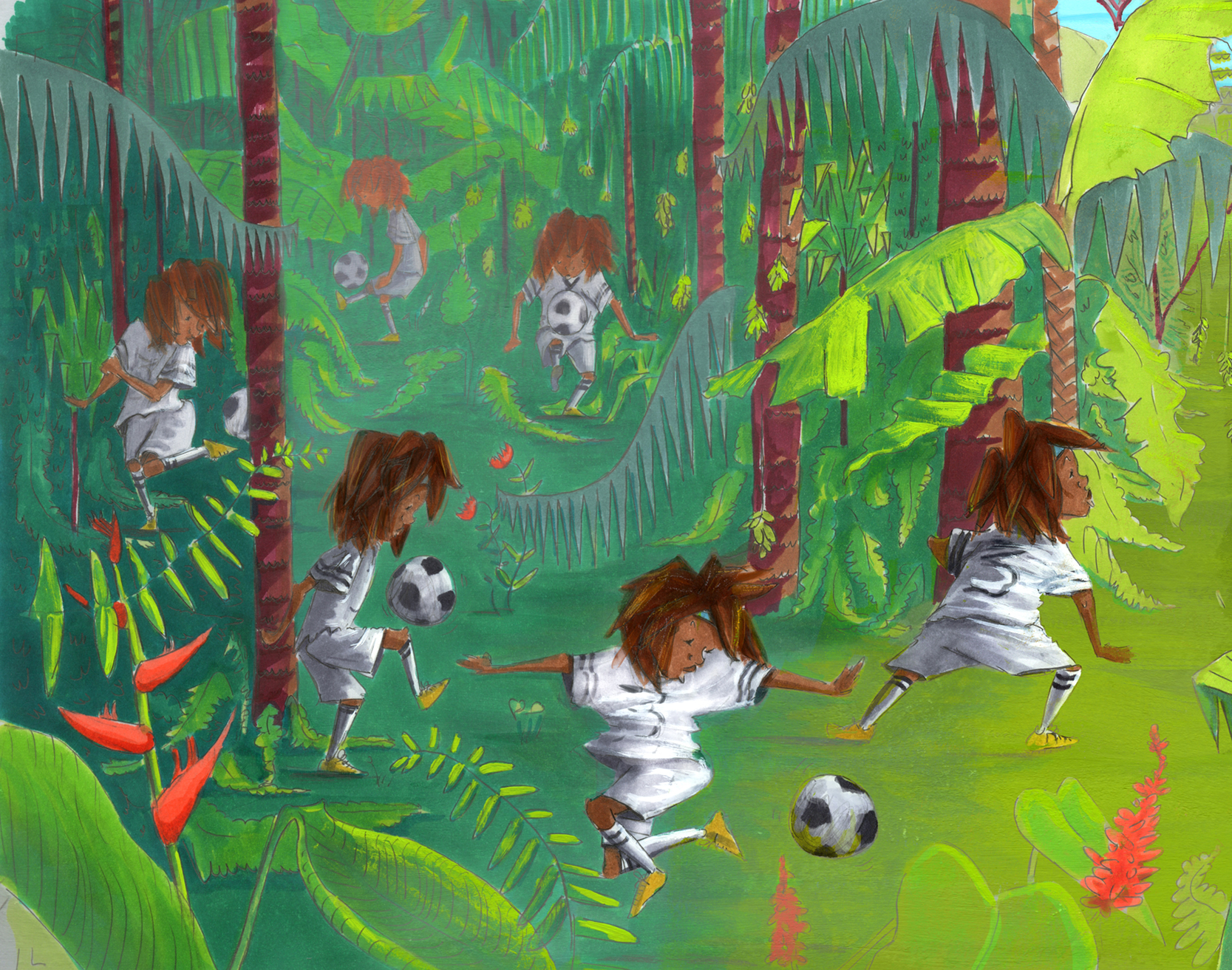 THE FIELD INFO:
Author: Baptiste Paul
Illustrator: Jacqueline Alcántara
North South Books
For Ages: 4 - 8
ISBN 9780735843127
SCHOOL VISITS! - I LOVE school visits!
AVAILABLE FROM:
BEST OF 2018 LISTS:
LINKS TO REVIEWS:
Horn Book, Starred Review

School Library Journal

Junior Library Guild Selection for Spring 2018
*STARRED REVIEW. "Gather around for a boisterous game of futbol in Paul and Alcántara's excellent picture-book debut...Colorful and dynamic, Alcántara's pictures depict an island community in lush shades of green and blue dotted with houses of bright red and orange....Irresistible fun."
– Vicky Smith, Kirkus Reviews, starred
*STARRED REVIEW "The vibrant illustrations are vividly detailed… A wonderful depiction of a joyful pastime that so many love to play all over the world, and a reminder of some of the ways we are more alike than different." —Booklist, starred
*STARRED REVIEW "Children everywhere will relate to the participants' devotion to and love of the world's most popular sport, as they "play on" despite slipping, sliding, and falling in the mud...Vibrant illustrations, full of movement and saturated with color, match the vigor and excitement of the text." -Martha V. Parravan, Horn Book, starred
ILLUSTRATOR BLOG TOUR
I had an amazing time chatting and corresponding with some of my favorite bloggers and podcasters. Such an honor to be featured - check out the interviews below!
EVENTS / APPEARANCES
Feb 24th: Andersons Kid Lit Breakfast

March 14th: Anderson's Bookstore In-Store Event

March 15th: Book Stall In-Store Event

April TBD: Texas Library Association Conference

April 21st: SCBWI Spring Thaw - Pitch Perfect 2

June9th: Soho House Event w/ The Chicago Red Stars

June 10th: Printers Row Lit Fest

June 14th: Riverside Public Library

June 25th & 26th: ALA Conference, New Orleans
2019
April 29: Salisbury Festival, Maryland

May 5th: SCBWI Wild Wild Midwest Conference